I am ple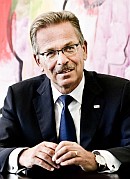 ased that the gay-lesbian network RBg has gone online, opening another aspect of diversity within our company.
RBg provides an important contribution to mutual respect and acceptance of individuality – and in this case homosexuality – amongst Bosch employees.
Our goal is to promote better understanding of one another and build a workplace environment free of preconceptions. In my opinion this openness to diversity is an important factor for the success of Bosch.